This week witnessed another flareup in the eurozone sovereign debt crisis. As a result, volatility in the EUR/USD pair surged, by some measures to a record high. Even though the Euro rallied yesterday and today, this suggests that investors remain nervous, and that going forward, the euro could embark on a steep decline.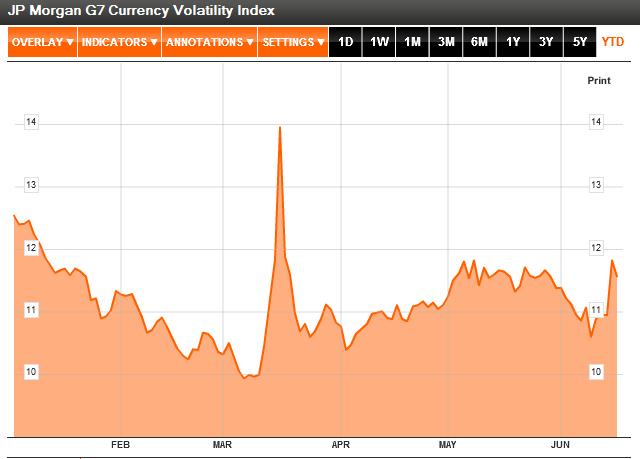 There are a couple of forex volatility indexes. The JP Morgan G7 Volatility Index is based on the implied volatility in 3-month currency options and is one of the broadest measures of forex volatility. As you can see from the chart above, the index is closing in on year-to-date high (excluding the spike in March caused by the Japanese tsunami), and is generally entrenched in an upward trend. Barring day-to-day spikes, however, it will take months to confirm the direction of this trend.
For specific volatility measurements, there is no better source of data than Mataf.net (whose founder, Arnaud Jeulin, I interviewed only last month). Here, you can find data on more than 30 currency pairs, charted across multiple time periods. You can see for the EUR/USD pair in particular that volatility is now at the highest point in 2011 and is closing in on a two-year high.

Meanwhile, the so-called risk-reversal rate for Euro currency options touched 3.1, which is greater than the peak of the credit crisis. This indicator represents a proxy for investor concerns that the Euro will collapse suddenly, and its high level suggests that this is indeed a growing concern. In addition, implied volatility in options contracts has jumped dramatically over the last week, which confirms that investors expect the euro to move dramatically over the next month.
What does all of this mean? In a nutshell, it shows that panic is rising in the forex markets. Last month, I used this notion as a basis for arguing that the dollar safe-haven trade will make a come-back. This would still seem to be the case, and should also benefit the Swiss Franc, which is nearing an all-time high against the euro. Naturally, it also implies that forex investors remain extremely concerned about a continued decline in the euro, and are rushing to hedge their exposure and/or close out long positions altogether.
Mataf.net suggests that this could make the EUR/USD an interesting pair to trade, since large swings in either direction will necessarily create opportunities for traders. While I have no opinion on such indiscriminate trading [I prefer to make directional bets based on fundamentals], I must nonetheless acknowledge the logic of such a strategy.