July 23rd 2009
ECB to Hold Rates Until 2011
The next rate-setting meeting of the European Central Bank ("ECB") is rapidly approaching (August 3), and analysts are stepping up to offer their opinions on the direction of EU monetary policy. At its last meeting, on July 2, the ECB voted to hold rates at the current record-low level of 1%, and all indications are that the August meeting will yield the same result.
Despite getting off to a late start, the ECB has since moved adroitly to strike a balance in its monetary policy between inflation and growth. For those that insist that its rates are still too high – especially compared to the US and UK – the ECB can counter by arguing that this way it still has some scope to lower rates, if need be. "If a deflationary spiral does become entrenched, unlike most of the other major global economies, at least the European Central Bank still has some of the interest rate tool left to fall back on," agrees one analyst.
The ECB can also refer critics to its overnight lending rate, which are 75 basis points lower than its main policy rate. "Before the crisis, the ECB would aim to keep overnight interest rates close to the refi rate. Since it moved to unlimited fixed-rate funding, the central bank has been content to allow the overnight rate to drift much lower than the policy rate." It is at this refinancing rate that it recently lent out a record €442 billion to banks and other financial institutions.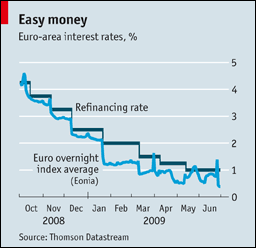 While the ECB "has had one eye on the exit since the start of the crisis," it nonetheless appears to be in no hurry to hike rates – neither its overnight nor its refi rate. Jean-Claude Trichet himself has said, "The current rates are appropriate." He even refused to rule out the possibility that rates could even fall further before policy is tightened.
According to a Bloomberg survey of economists, this won't happen for at least a year – the fourth quarter of 2010 to be specific. After all, inflation has touched a record low of -.1%. The Eurozone economy contracted by a record 4.5% last quarter. Private sector lending growth has fallen to a record low of 1.8%. All in all, not exactly the right environment for a rate hike. There is at least one vocal inflation hawk on the governing board of the ECB who is arguing for preemptive rate hikes, but for now at least he has been silenced. "Economists at Barclays in London have forecast that Europe's policy makers won't begin raising rates until late 2011."
The forex markets, meanwhile, appear to be indifferent to this whole debate, concerned not about Eurozone growth, inflation, low interest rates, not to mention political uncertainties and trade deficits. The Euro has resumed its upward rise against the Dollar, begun in March, and may not slow down until the Fed starts to tighten monetary policy.