August 18th 2009
Euro retreats from 2009 Highs
In forex, timing is everything. If I had written this post a couple weeks ago, the headline would read "Euro Touches 2009 High." Perhaps if I had waited another week, it would have read, "Euro Approaching 2009 High." But alas, I chose today to write about the Euro, and the headline I chose is probably the most appropriate under the circumstances.

On August 5, "The euro hit a high for the year against the dollar as stocks trimmed their losses in afternoon trading Wednesday despite a generally cautious tone in currency markets." Analysts were careful to point out that the markets remained cautious and the Euro eased past – rather than smashed through – its previous high. Technical analysts would and have argued that this paved the way for the subsequently rapid decline: "The euro is testing the base of an ascending channel with daily momentum charts showing a 'double top in overbought territory.' "
This notion might have some merit, considering that fundamentals arguably favor a continued Euro appreciation. "The economy of the 27-country European Union shrank 0.3 percent in the three months ended June 30, for an annual rate of roughly 1.2 percent. The 16 countries that use the euro registered a 0.1 percent decline for the second quarter, or an annual rate of roughly 0.4 percent." While output remains well below its 2008 levels, the slight contraction represents a tremendous improvement from the first quarter, when GDP shrank by 2.5%.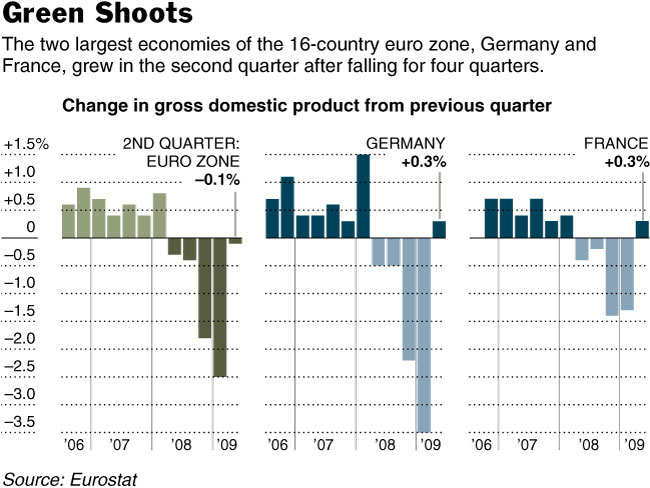 "Underlying the strong reading were solid performances in France and Germany, each of which grew 0.3 percent in the second quarter, government data showed." This is helping to offset further contractions in Italy and Spain, which have turned into economic laggards as a result of the housing bust. In addition, exports in Germany grew by 7% last month, and "Investor sentiment improved more than analysts had expected in August to its best level since April 2006." On an aggregate basis, "the euro zone's trade balance with the rest of the world rose to 4.6 billion euros ($6.5 billion) in June, compared to a flat balance in the same month last year,"
Still, explorers looking for bad news and/or cracks beneath the surface will have no difficulty finding them. German exports (and output in general remain down year-over-year. In addition, there are still trouble spots in the EU, notably in western Europe. "Already, the euro area's unemployment rate stands at 9.4 percent, its highest level in 10 years, and the anemic growth of the coming quarters will not be enough to arrest the slide. That, in turn, could drag down consumer confidence or even generate political backlash in Europe, economists said." Most worrying is perhaps that, "consumer prices in the euro area dropped 0.6 percent in July…" 'Deflation is becoming entrenched in the euro area, which would be very bad for the economy.' " Good thing the ECB left some room to lower rates further.