March 24th 2010
A Break-Up of the Euro?
Lest you accuse me of doomsday predictions and excessive fear-mongering, consider that I have only broached this topic on
one previous occasion
. In 2005, it was suggested that the Euro would dissolve since a handful of member countries (France and the Netherlands) rejected the new EU Treaty. [Alas, the tragedy was averted when both countries' Parliaments ratified the Treaty against the wishes of their respective electorates]. This time around, however, the problems are deeper, and are economic rather than political.
Last week [
EU Debt Crisis: Perception is Reality
], I wrote that Greece only has three possible choices in dealing with its fiscal problems: clean up its finances, pray for a bailout, or (partially) default on its debt. Here I overlooked a fourth possibility: leaving the Euro and devaluing its debt. That this was originally omitted was not an oversight, but proof that this is considered a last resort of last resorts. Most analysts believe that Greece would sooner default on its debt than leave the Euro.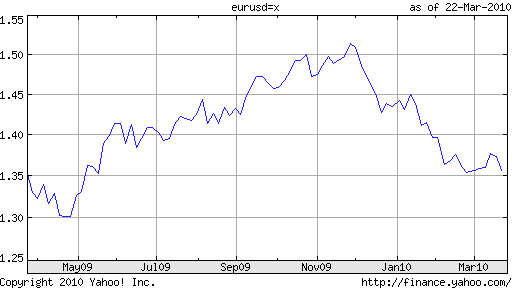 I'm inclined to agree. The Greek economy benefited from inclusion in the Euro zone in the form of lower interest rates and increased credibility. Sure, it took advantage of these perks by running up record budget deficits, but one can hardly blame the Euro since Greece binged voluntarily. The responsible move might be for the EU to kick Greece out, akin to the bartender cutting off the alcoholic; you wouldn't expect the alcoholic to voluntarily stop drinking.
For now, Greece is saying and doing all of the right things to placate both EU officials and its own lenders. On the other hand, it faces increasing pressure from its populace. Fiscal austerity during an economic recession is a recipe for political disaster: "
Greek workers disrupted
transportation services and tried to storm parliament on March 5 as lawmakers passed 4.8 billion euros ($6.6 billion) of extra deficit reductions, including lower wages for public employees. Such cutbacks will continue to run into resistance as unemployment is propelled above December's 10.2 percent." Since both of these extremes (fiscal crisis on the one hand and civil unrest on the other) are equally untenable, some analysts think the only solution will be for Greece to leave the Euro.
Given that Greece's economy only accounts for 2% of EU GDP, it won't make too many waves regardless of what happens. The bigger problem, looming on the horizon, is Spain. Spain accounts for close to 15% of EU GDP, and the economic slowdown hit the nation hard. Low interest rates fomented a massive property and infrastructure boom, and the subsequent easing of monetary policy (to soften the collapse), succeeded only in stoking inflation. The concerns are twofold: that the economic crisis can't resolve itself without deflation, and/or that economic crisis will trigger a fiscal crisis. While Spain is still far from fiscal crisis, it's worth pointing out that fiscal austerity will be difficult (because of the economic downturn) and that an EU bailout would impossible because of its size.
The situations in Spain and Greece (Ireland and Portugal could also be included) have underscored concerns harbored by many economists since the creation of the Euro. They argue, namely, that the common currency has allowed poor countries to borrow more than they otherwise would have been able to, and that the common monetary policy has resulted in harmful gaps between countries in inflation and economic growth. "They have a single monetary policy and yet every country can set its own fiscal and tax policy. There's too much incentive for countries to run up big deficits as there's no feedback until a crisis," summarized Harvard economist Martin Feldstein.
Feldstein and a chorus of others are now openly predicting the breakup of the Euro. Former U.K. Treasury adviser
Roger Bootle
has asserted that, "As countries in the euro area are 'forced to cut back on fiscal deficits, they're going to face many years of depression and deflation. It's doubtful politically they can hold that line." Naturally, most still dismiss this as an outside possibility, with ECB President Jean-Claude Trichet going so far as to call it "
absurd
."
Given that the crisis countries (Greece, Spain, etc.) will probably fight the hardest for the Euro's preservation, Trichet is probably right. "
Support for monetary union was highest in Spain
, 'much higher than in Germany, where a lot of people were reluctant because they already had a strong currency…So Spain is very pro-European.' As a result, the chances of Spain pulling out of the euro are 'just unthinkable.' " Still, even the outside possibility is enough to make investors nervous.