June 19th 2009
General Uncertainity Pushes Dollar Upwards
Over the last month, the US Dollar has steadily reversed its downward fall against the Euro. While it might still be premature to pronounce an end to the amalgam of intertwined trends that sent equities, commodities, and emerging market currencies (i.e. anything risky) up and the Dollar down, it's worth examining this possibility in greater detail.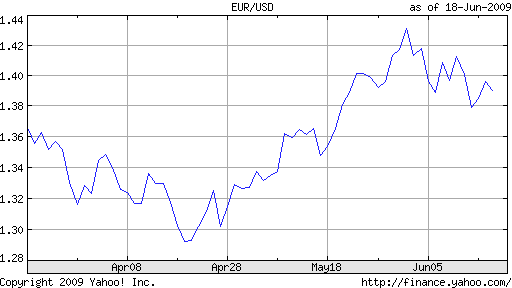 My philosophy of forex has always been to focus on the medium and long-term trends. Over the last two two-three months, the medium-term narrative was one of increased risk-taking. Generally, investors had become both more complacent with risk and more optimistic about the global economy's prospects for avoiding economic depression. The US financial sector was shored up (or at least "vouched for") by the US government, and a Fed-driven flood of liquidity poured money into the riskier sectors of the global financial markets.
The sideways trending of the USD/EUR doesn't necessarily imply that this trend has run its course. Instead, I think it suggests that investors are looking for guidance as to what kind of narrative will predominate over the next few months- whether a continuation of the risk-aversion story, or a brand-new story. Investors tend to make their own reality, such that a pattern will inevitably emerge, and investors will find cause to affirm that pattern or negate that pattern. Simply, right now, there is no consensus on what that pattern is.
There is good reason for caution. The global economy (and forex markets) stand at a crossroads. Investors (want to) believe that the worst of the recession is behind us. But there is still good reason to believe that this is not the case. Unemployment is still rising, the housing market is falling, and GDP is still declining. Stock market investors may finally have taken notice of this contradiction, as the stock market rally has stalled of late.
Meanwhile, long-term rates have begun to tick up, but short-term rates remain frozen at record lows. Some analysts believe that the Fed will tighten monetary policy before the year is out, but the wide daily swings in interest rate futures contracts, imply a complete lack of consensus on this as well. The same goes for inflation, which is near 0% at the moment, but could easily explode as a result of rising recovering prices, record budget deficits, and the Fed's own quantitative easing program.
There is no single event or data point that will shake investors from their uncertainty. Sure, a credit downgrade of US sovereign debt, another large-scale bankruptcy, a strong intimation of an interest rate hike, or a turnaround in GDP would all do the trick. In all likelihood, however, it won't be so obvious, and investors will continue to selectively cull data that reinforces the case for optimism, pessimism, or further uncertainty.