August 9th 2010
China Currency Revaluation: More Than Just the Yuan at Stake
I concluded my last post (Euro Recovery: Paradigm Shift Confirmed) by musing about how interesting it is that nobody has taken credit for predicting/profiting from the sudden reversal in forex markets, whereby the Euro has surged and the Dollar has tanked. Two days later, I think I can offer an explanation: China.
That's right. The force behind the sudden sea change might not be private investors, which up until the spike entrenched itself as a full-fledged connection, remained firmly behind the declining Euro. Instead, it seems quite reasonable that China – via its sovereign wealth fund, which is charged with investing its foreign exchange reserves – might be the responsible party.
That China is buoying the Euro would make sense on a couple fronts. First of all, it would explain the mysterious silence behind the rally. China is naturally secretive in pretty much everything it does, especially in the way it conducts currency policy and manages its forex reserves. That China hasn't even formally announced, let alone bragged about, "diversifying" its reserves, makes perfect sense.
More importantly, that China is responsible also makes sense from a strategic standpoint. China has long spoken about its intentions to change the allocation of its forex reserve holdings, and in hindsight, its timing was perfect. In the beginning of June, the Euro stood at a multi-year low, and the price of US Treasury Bonds stood at a multi-year high. Thus, China's sovereign wealth fund was able to simultaneously lock in some profits from lending to the US and dissipate risk by swapping US assets for those denominated in Euros and Yen. "China has already bought $20 billion worth of yen financial assets this year, almost five times as much as it did in the previous five years combined." [Analysts have noted that buying Yen also achieves the peripheral end of making Japanese exports less competitive relative to those from China].
Moreover, China can achieve this diversification without influencing the value of the Yuan, since Dollars can be exchanged directly for Yen and Euros. That is important, since the RMB is still effectively pegged to the Dollar. Speaking of which, the Yuan has hardly budged since its 1% revaluation in June. On a trade-weighted basis, it has actually fallen.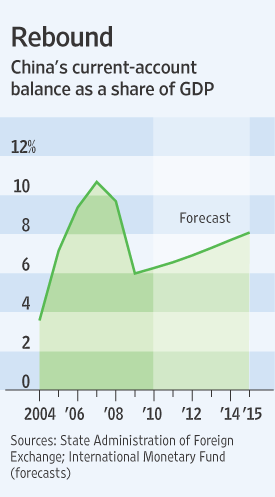 Pressure continues to mount on China to allow the RMB to appreciate. As a result of the 1% nudge in June, speculative hot money is now flowing into China at an increasing rate, because investors are "thematically looking for ways that they can participate in the currency markets in China." They are supported by the IMF, which most recently called on China to re-balance its economy away from exports and towards trade. Its report included predictions that China's currency account / trade surplus will continue to rise, seemingly for as long as the RMB remains undervalued. Due to pressure from China, however, it removed precise figures on the recommended extent of said revaluation.
According to a consensus of analysts, China's exports were probably lower in the month of July, which could give the Central Bank pause in allowing the RMB to rise too much too soon. Instead, it has announced that it will make a more sincere effort to tie the Yuan to a basket of currencies, rather than just the Dollar. " 'The yuan should be kept stable at a reasonable and balanced level overall, while it may have two-way moves against particular currencies,' Hu [XiaoLian, Deputy Governor] said, adding that the composition of the central bank's currency basket should be mainly based on trade weightings."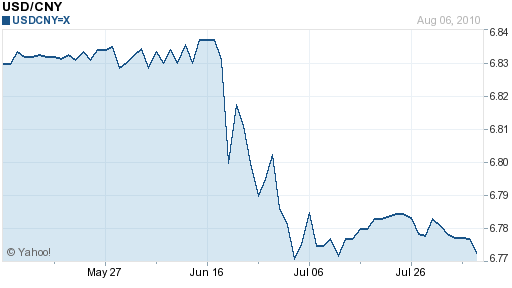 Going forward, then, the Yuan will probably remain basically stable against the Dollar. As China moves towards a trade-weighted peg, however, it is conceivable that it will continue to buy Euros (and Yen, for spite) against the Dollar. As this could have a confounding effect on currency markets, traders should plan accordingly.