May 22nd 2009
Asian Currencies Rally for Third Straight Month
According to a recent Reuters poll, investors are increasingly bullish on emerging market Asian currencies, including the Taiwan dollar, Indonesian rupiah, Singapore dollar, Malaysian ringgit, Philippine peso, South Korean won, and Indian rupee. The Thai Baht wasn't covered by the poll, but given its strong performance over the last few months, it seems safe to include it in the bunch.
This uptick in sentiment is somewhat unspectacular, since "The Bloomberg-JPMorgan Asia Dollar Index, which tracks the 10 most-active regional currencies," has now risen for almost three consecutive months [See chart below]. Leading the pack are the Taiwan Dollar and South Korean Won, which recently touched five-month and seven-month highs, respectively. "The Korean currency has climbed 28 percent since reaching an 11-year low of 1,597.45 in March."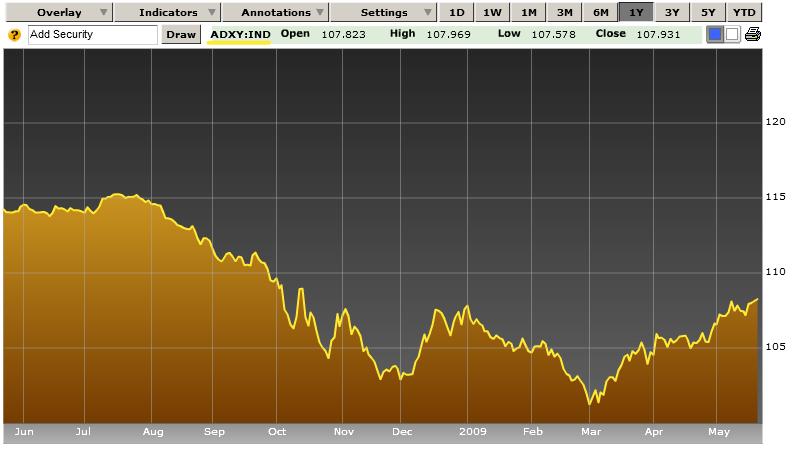 Investors are now pouring money back into Asia at rapid clip. "Asia ex-Japan received $933 million in the week ended May 20, the most among emerging-market stock funds, bringing the total this year to $6.9 billion." Meanwhile, the "The MSCI Asia Pacific Index of regional stocks climbed 22 percent this quarter" while Chinese stocks are up 45% since the beginning of 2009.
But it's unclear – doubtful is a better word – whether this rally is supported by economic fundamentals. One commentator summarized this contradiction as follows: "Improved sentiment has led to a massive resurgence in flows to emerging markets, irrespective of the underlying data, which remains weak. Investors are going out of dollars to riskier markets, riskier currencies."
Let's drill down into some of the data. Chinese exports fell 15% in April. Japan's economy contracted 15% in the most recent quarter. Singapore's exports are down 20% on an annualized basis. The South Korean economy is projected to shrink by 2% this year. The Central Bank of Thailand just cut its benchmark interest rate to an unbelievable 1%. The only bright spot economically is Taiwan, which is benefiting both from improved economic ties with China and a healthy current account surplus. I suppose everything is relative, as "developing Asian economies will grow 4.8 percent in 2009, even as the world economy contracts 1.3 percent" according to the International Monetary Fund.
The notion that the rally is not rooted in fundamentals is shared by the region's Central Banks, which clearly realize that economic recovery will be much more difficult in the face of currency appreciation. One analyst argues that, "Until the signs of global economic recovery become more convincing, central banks will unlikely tolerate significant currency appreciation." The Central Banks of South Korea, Taiwan, and Indonesia have already actively intervened to hold their currencies down, while Malaysia and Singapore (discussed in a Forexblog post last week) have also intervened for the sake of stability.
As a result, this rally could soon begin to lose steam. "A 'correction' in regional currencies is 'appropriate' following recent gains," said one analyst. Another has called the rally "overdone." Still, Central Banks and economic data pale in comparison to capital flows and risk/reward analysis. In short, these currencies (and other investments) will continue to find buyers for as long as there are those hungry for risk. Citigroup, whose "Asia-Pacific foreign-exchange volume may rise about 10 percent from the first quarter," is bullish. A representative of the firm declared: "Fund managers are still 'sitting on lots and lots of cash' so the pickup in volumes will continue."