September 7th 2009
Dollar Under Pressure on All Fronts
I concluded a recent post with a reference to the X-factor in forex markets: the US National Debt. In fact, the surging debt is only one of several factors that is exerting downward pressure on the Dollar, though it is perhaps the one that receives the most attention, and it probably represents the most pernicious threat to the Dollar's long-term viability as the world's reserve currency.
It's difficult to say for sure how large the federal government debt currently is, and even more difficult to forecast. We can begin by looking at gross debt (Treasury securities) outstanding, which is around $11.4 Trillion. Since half of this represents intra-governmental debt, debt owed to external parties is probably about $6 Trillion. Going forward, meanwhile, the latest government projections indicate a $9 trillion increase over the next decade, touching a whopping $20 Trillion in 2020. In absolute terms, it would smash all previous records, while in real terms (as a percentage of GDP), it would be the largest increase since World War II.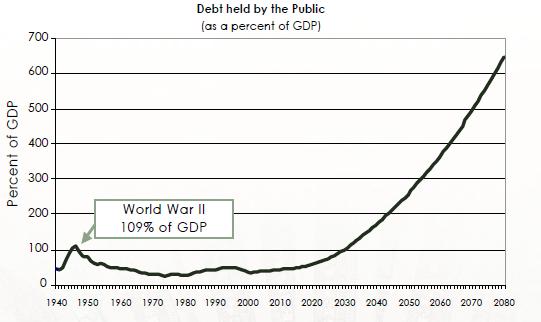 Over the long-long-term, the growth in national debt is projected to be catastrophic, as the baby boomer retirement leads to an explosion in entitlement spending. The resulting strain on the system is summarized by the Government Accountability Office: "Without changes, spending for Social Security, Medicare, and Medicaid would permanently and dramatically increase the Government's budget deficit and debt, leading eventually to renewed financial and economic instability."
For simplicity's sake, let's ignore the politics of deficit spending and national debt expansion, and focus on the implications for the Dollar. "Major investors like Berkshire Hathaway Inc. Chairman Warren Buffett and bond investment firm Pimco fear the government's fiscal and monetary stimulus programs could end up fueling inflation in coming years and hammering the dollar." Buffet's prognosis is grounded in the beliefs that government will be too timid to raise taxes, and that growth in new Treasury issuance will outpace investor buying capacity. In other words, even if we make the (dubious) assumption that Central Banks remain committed to holding US Treasuries, their needs/finances will constrain their collective ability to absorb more than a fraction of new debt.
The result, predicts Buffet, will be a calculated political preference for inflation: "Legislators will correctly perceive that either raising taxes or cutting expenditures will threaten their re-election. To avoid this fate, they can opt for high rates of inflation, which never require a recorded vote and cannot be attributed to a specific action that any elected official takes." If this (potential) inflation is not accompanied by higher interest rates, it would erode returns on US investments, and by extension, interest in the Dollar.
Ironically, the Dollar is being driven down in the short-term because inflation (and crucially, interest rates) are too low. In fact, the Dollar is now the cheapest currency in the world to borrow, since the Dollar LIBOR rate fel below than the corresponding Japanese rate for the first time in 16 years. "The historic shift — and the decrease in the three-month dollar Libor — underscores how global financial markets are now awash in liquidity, especially dollars, as central banks have flooded their economies with low rates and cheap financing."
This pessimism in the Dollar has been accompanied by a search for an alternative, with all parties so far coming up empty-handed. The Euro is a logical choice, but mounting economic and political problems equate to high levels of uncertainty. The Chinese Yuan has also been proposed, but its capital markets and economy remain too opaque for it to be taken seriously as a reserve currency. The final possibility is the Japanese Yen, which is characterized by a perennial stability and transparent capital markets. Unfortunately, Japan's economy is both too small and too weak for the Yen to be a serious candidate. Not to mention that its national debt already exceeds 170% of GDP and its looming entitlements crisis will make America's look mild in comparison.
In short, it looks like investors are stuck with the Dollar – for now at least. Actually, a rise in interest rates would alleviate both the short-term and long-term pressures on the Greenback, by making it more expensive to short, and offering a higher risk-adjusted return for investors concerned about the ever-increasing national debt. But, this could create a whole new set of economic pressures, and make US investments just as unattractive in nominal terms. Sounds like a lose-lose currency.