August 10th 2009
Dollar Reverses Course
A recent WSJ headline reads, Good Economic News Threatens the Dollar, and summarizes the Dollar's trading pattern as follows: "Demand for the U.S. currency continues to erode amid a tide of more encouraging economic data and corporate earnings that have fed a thirst for riskier assets such as stocks, commodities, and growth-sensitive currencies."
Less than two weeks after that article was published, the Dollar rose by a healthy 2% against the Euro in only one trading session, as US labor market conditions improved slightly: "The U.S. unemployment rate fell in July for the first time in 15 months as employers cut far fewer jobs than expected, giving the clearest indication yet that the economy was turning around from a deep recession." While technically another 250,000 jobs were lost and economists forecast that the employment rate will rise past 10% before peaking, investor sentiment is still at a high.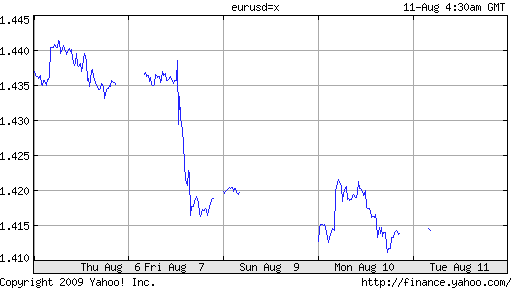 Unsurprisingly, the news triggered a stock market rally. More noteworthy, though, is that the Dollar also rallied. Since the beginning of 2009 and especially since the beginning of March, there has been a clear negative correlation between stocks and the Dollar, as a result of risk appetite. "At one point this year, the correlation between the euro-dollar rate and the S&P 500 index hit 50 percent, according to BNP Paribas calculations. That is, the euro and S&P 500 rose or fell in tandem half the time."
This latest development suggests that this relationship has broken down, at least temporarily. Argues one analyst, "The dollar's going to turn. The U.S. economy is more able to withstand shocks than other economies, especially Europe." Perhaps going forward, the markets will be driven less by risk appetite and more by comparative growth trajectories and economic fundamentals.
Not so fast, though. Much of the Dollar's recent slide has been a product carry trading patterns, as investors borrow in low-yielding Dollars and invest in higher-yielding alternatives. An improvement in economic conditions could compel the Fed to hike rates, which would seriously dent the attractiveness of the carry trade. "Indeed, long-dated U.S. interest rates have been quietly moving in the dollar's favor while U.S. interest rate futures on Friday started pricing in a federal funds rate of 1.25 percent by the mid-2010, the highest since June." Based on this paradigm, then, it's still risk appetite that's driving the Dollar, whether up or down.