April 2nd 2011
Can the Australian Dollar Hold on to Record Gains?
The volatility of the last couple weeks has manifested itself in some unbelievable outcomes. In this post, I want to focus specifically on the Australian Dollar. When the Japanese disasters struck, the Aussie immediately tanked, as investors jettisoned risk and moved towards safe haven currencies. Only days later, it inexplicably rose 5%, en route to parity and a 28-year high against the US Dollar. The question is: will the Aussie hold on to these gains, or will it return to earth as soon as the markets come to terms with the misalignment with fundamentals?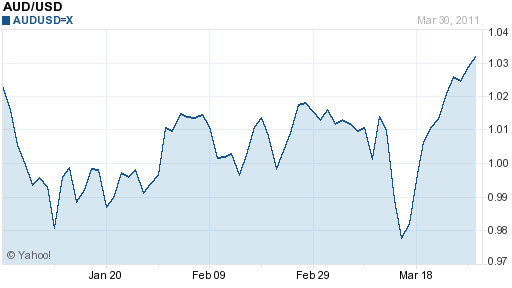 The Australian Dollar remains buoyant largely because of interest rate differentials. Basically, Australia boasts the highest benchmark interest rates (4.75%) in the industrialized world, and investors are betting that it will rise further, perhaps to 5.5% by the end of 2011 and even higher in 2012. Given that the other G7 Central Banks probably won't hike for a couple more quarters – and even then, rate hikes will be gradual and restrained – it's only natural that yield seekers are flocking to the Aussie.
However, it seems possible that the markets have gotten ahead of themselves in presuming an airtight case for further rate hikes. While Australian inflation is somewhat high (2.7%), it has actually moderated slightly over the last six months. In addition, the rising Australian Dollar will help to mitigate inflation and hence make it less likely that the Reserve Bank of Australia (RBA) will hike rates. (How ironic that the markets' bet on higher interest rates in Australia actually makes it less likely that those rate hikes will actually take place!).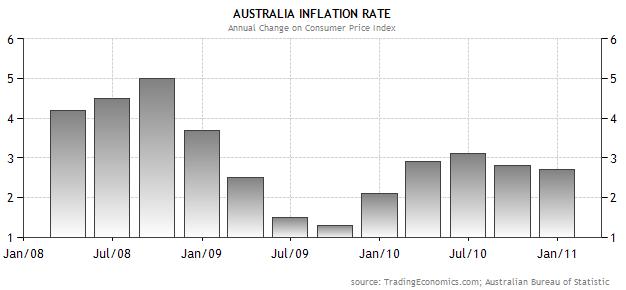 Moreover, the domestic Australian economy isn't performing as well as some people think. It is true that an investment boom in mining and a surge in commodities prices have provided an economic windfall. On the other hand, the strong Aussie has undermined strength in the manufacturing sector, the housing market is poised for correction, and the summer flooding will crimp at least .5% from 2011 GDP.
In fact, not only is it not guaranteed that the RBA will hike rates, but some analysts think it's possible that the RBA will cut its benchmark cash rate before the end of the year. At the very least, analysts need to double check their assumptions and re-jigger their interest rates models.  Given that the Australian Dollar is primarily being supported by expectations for higher interest rates, that also means that investors to scale back their forecasts for the Australian Dollar.
Personally, I think that a bubble is beginning to form in currency markets, at least in certain corners of it. Due to commodity prices and relatively high interest rates, the Aussie is certainly one of the more attractive major currencies at the moment. At that same time, that it has risen so fast in the last few years – and especially in the last few weeks – strikes me as fundamentally illogical. At this point, its rise has become self-fulfilling; investors want it to rise, and so it does.
At this point, there are two possibilities. Either the markets will wait for fundamentals to catch up with the Aussie, and it will hover around parity or appreciate slightly, or investors will recognize that it has appreciated too much too fast, and its correction will become one of the major events in forex markets in 2011.