April 3rd 2011
Retail Forex: Lower Corporate Profits = Lower Spreads for Traders?
In December 2010, both GAIN Capital and FXCM became public companies. This was thought both to signal the maturing of an industry and to herald the start of a period of explosive growth. Since then, the share prices for both companies have fallen dramatically, even while the S&P 500 has continued to rise. Trading volume has remained flat, and revenues have declined. As a result, analysts (myself included) are starting to question not only the operations of these two firms, but also of the entire industry.
Before we jump to conclusions, it's important to understand the basis for this sudden aura of uncertainty . First of all, both firms – as well as the broader forex industry – have found themselves the subject of increased regulatory scrutiny, and consequent disciplinary action. Second, trading volume has been impacted by an uptick in volatility. Third, an increase in institutional trading volume has not translated into a proportional increase in revenues/profits. Fourth, the recent tightening of leverage rules (which may be helping traders!) has eroded a large profit center. Finally, high account turnover suggests that the brokers will eventually run out of customers.
I don't want to dwell on the industry's regulatory travails (since I have blogged about it before), except to say that I think it's a good thing. It will bring greater transparency, and generally make trading safer and cheaper. For more information on the specific allegations and (potential) regulatory response, the WSJ recently published an excellent overview.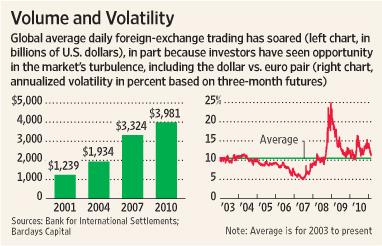 As for the temporary decline in retail trading volume, this is probably temporary. Overall forex volume has tripled over the last decade, and it is forecast to triple again over the coming decade. In addition, the mainstreaming of currency trading will spur millions of investors to at least dabble on forex. Unfortunately, this will probably be offset by a decline in trading activity by existing customers, as the majority come to terms with the difficulty of profiting through high-volume/high-leverage trading.
Furthermore, increased volume will combine with increased competition to facilitate lower spreads. According to a recent report by LeapRate, GAIN Capital now earns an average of only 1.7 pips per trade, a stunning drop for the 2.7 pips that it averaged during most of 2010. Basically, the same thing is now happening to forex that decimalization and computerization brought to bear on stocks. If hedge funds and other institutional traders continue to enter the market en masse, spreads will be arbitraged away to the point that 1-2 pips (or even smaller!) should become the norm for all major currency pairs.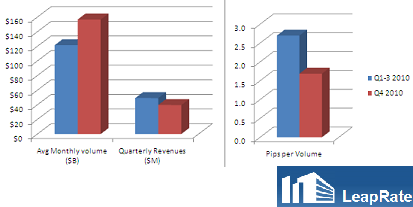 In short, retail forex traders should applaud the decline in stock prices. After all, what's good for traders is probably going to be bad for business. Liquidity is increasing, and spreads are falling. Enhanced regulation is eliminating shadowy sources of profit and will make trading more secure. The only thing left to hope for is that all forex brokers go public, and open up their books to the same level of scrutiny as GAIN Capital and FXCM.