March 11th 2011
Yen In Trouble, Even Before Earthquake
Even before today's devastatingly tragic earthquake, a confluence of negative factors had begun to pile up behind the Yen. Low interest rates. Low GDP growth. Political infighting. Record national debt. Declining current account surplus. Lack of interest in investing in Japan. In short, while the Yen deserves credit for perseverance, I have to believe that the day of reckoning is near.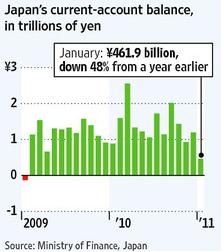 On the one hand, Japanese exporters appear to be adapting well to the high Yen, and most of the well-known companies are recording healthy profits. On the other hand, Japan recorded its first trade deficit in two years, and the second largest since 1985. Its current account surplus also fell to a modest $5 Billion, on the basis of high oil prices and declining investment inflows. It seems that both foreign and domestic investors are becoming more wary about Japan, which is being reflected in more capital going out and less coming in. Business Week recently reported that "Investment flows into Japanese mutual funds that focus on offshore assets rose 14 percent to 624.6 billion yen ($7.51 billion) in January from a year earlier."
In fact, this trend is being driven in part by low interest rates. Japan's benchmark rate is basically nil, and long-term rates are proportionately minuscule. If not for perennial deflation, real interest rates would probably be the lowest in the world. Given that the Bank of Japan probably won't raise interest rates for another two years (it's actually quite ridiculous to even broach the possibility at this point, given that it hasn't even finished unrolling its monetary easing plan), this phenomenon will only further entrench itself.
It seems that the forex markets are finally taking notice, due in part to last week's rumblings about ECB rate hikes. As a result, the Japanese Yen is set to resume its role as the funding currency of choice for carry trades. According to a Bloomberg News analysis, in 2011, "Carry trades using the yen gained 23.8 percent [on an annualized basis], compared with 2.8 percent in dollar-funded trades."That represents an about-face from 2010, when the Dollar was the most profitable funding currency. In addition, volatility is slowly returning to pre-credit crisis levels, increasing the stability (and hence, attractiveness) of the carry trade.
As if that wasn't enough, the government of Japan continues to run massive budget deficits. Wary of the growing national debt (and perhaps of the recent downgrade of Japan's sovereign credit rating), the legislature appears unwilling to sanction the issuance of more debt. For better or worse, the resultant political standoff could lead to the ousting of Prime Minister Naoto Kan. If recent history is any indication, it seems unlikely that his successor will break through the political stalemate that seems to plague the country.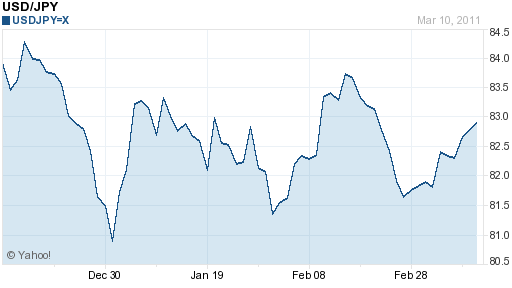 It's hard to find a single analyst that is bullish on the Yen. "The yen may weaken to 86 per dollar by the end of the second quarter and 90 by the end of the year, according a Bloomberg News survey of 40 forecasters." Meanwhile, speculators are net short the Yen for the first time this year, according to the most recent CFTC Commitment of Traders report. It has already weakened 8% (on a trade-weighted basis) from its 2010 peak, and has depreciated against every single major currency in 2011. Perhaps the strongest indication is that the Bank of Japan has announced that it is no longer preoccupied with the Yen, despite the fact that it is still within striking distance of its all-time high against the Dollar.
In short, while I hesitate to broach the earthquake again for fear of sounding callous, I think it might just provide investors with the excuse they need to send the Yen down, down, down.