September 14th 2009
Japanese Elections and the Yen
In what could be be called an "earth-shattering" election, Japan's incumbent Liberal Democratic Party (LDP) was finally unseated, after a 50-year stretch in power (excluding an 11-month "hiatus" in 1993). Given both the historic nature of the defeat and the margin of victory, it's surprising that the election took place with so little fanfare. This is perhaps because the defeat was grounded more in opposition to the LDP than in support for the victorious Democratic Party of Japan (DPJ), of which little is surprisingly known. For that reason, it's extremely difficult to assess/predict the implications of the election, and I should preface this post by noting how speculative its conclusions are. Still, a few meaningful observations can be made.
First, the DPJ appears to be somewhat liberal when it comes to economic policy. "Yukio Hatoyama, who is poised to be named prime minister, has railed against 'unrestrained market fundamentalism and financial capitalism.' " It's not clear exactly what was meant by this pronouncement, although it's certainly connected with the LDP's pledge to increase spending on social programs: "It says it will improve health care, expand payments for the unemployed and provide a minimum monthly pension…and remove the tuition fees for public high schools of around ¥120,000 a year."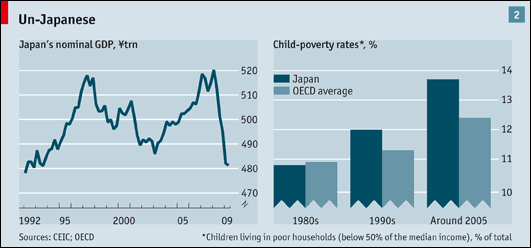 It also aims to spearhead a change in the structure in Japan's economy, away from big government projects and export-dependent industries, in favor of consumers and small businesses. Through a combination of tax cuts, transfer payments, and certain spending initiatives, it is intended that consumers will feel a greater sense of financial security, and open up their wallets. "If they succeed, firms that cater to domestic consumers, from clothing retailers to restaurants, are expected to prosper." Given that the unemployment rate just touched a record low and that deflation has now set in, it certainly has its work cut out for it in this regard.
Second, a crisis is looming in Japan's public debt, and it's not clear if/how the DPJ can solve it. The spending measures approved by the LDP while its leaders were still in power are projected to bring Japan's national debt to 200% of GDP, by far the highest in the industrialized world. Some analysts have ascribed a fiscal hawkishness to the DPJ, and believe that despite its campaign promises, it will actually move to rein in spending.

Other analysts are skeptical, and have argued that unless (consumption) taxes are raised, Japan will soon face a crisis of epic proportions. "We have a government coming in that's committed to spend even more than the previous government at a time when increased borrowing to spend is just not a plausible option…A catastrophic breakdown of Japan's public-sector finances will be the biggest story ever to hit the world economy in our times, eclipsing the current financial crisis," said one economist. Given that the the DPJ has promised not to touch the consumption tax rate for at least four years, such a crisis could come sooner rather than later.
Third, DPJ leadership has pledged not to intervene on behalf of the Japanese Yen, as part of its program to re-structure the economy away from exports. This marks a huge shift from the previous LDP administration, whose policies and rhetoric were consistently geared towards helping exporters and holding down the Yen. "I basically believe that, in principle, it's not right for the government to intervene in the free-market economy using its money, either in stock or foreign-exchange markets," declared Hirohisa Fujii, Japan's soon-to-be-appointed finance minster, who has voiced support for a strong Yen policy on the grounds that it will boost Japanese purchasing power. This contradicts his exchange rate policy during his first stint as finance minister, during which he managed repeated interventions on behalf of the Yen. Still, it should be noted that during his tenure, the Japanese Yen rose against the Dollar.
What do the markets think? The Japanese Yen rose on the news of the DPJ victory, which suggests that investors are inclined to give the new administration the benefit of the doubt when it comes to its pledge not to intervene in forex markets. At the same time, Japanese equities sank, consistent with expectations that the DPJ will be less supportive of big business then its predecessors. In the end, nothing is written in stone, and if the Japanese economy fails to revive, don't be surprised if the DPJ does an about-face and decides that maybe a weak Yen isn't so bad after all.