June 1st 2009
Carry Trade Sends Brazilian Real Skyward
The rally in emerging markets that has unfolded over the last couple months has been especially kind to Brazilian investments, as well as to its currency, the Real, which "has gained 26 percent since March 2, the biggest advance among the six most-traded Latin American currencies. In May, the real climbed 11.2 percent, the strongest advance since April 2003." The currency has already touched a seven-month high, returning to a level last seen before the collapse of Lehman Brothers send a shock wave through global financial markets.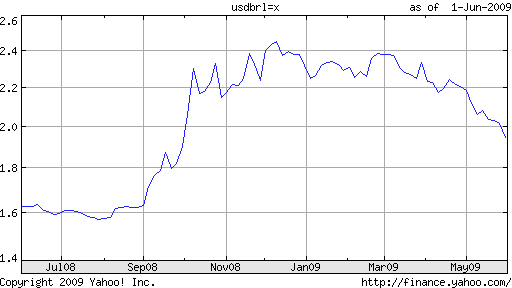 There is now a strong amount of circularity in the relationship between the Real and Brazilian stocks/bonds, such that both are strengthening simultaneously. Accordingly, foreign (institutional) investors are rushing back into Brazil almost as quickly as they left: "More than $7.7 billion of foreign money has entered the Brazilian stock market in the year through May 12." The direct shift of funds from the US to Brazil as especially staggering: "Central bank data on Wednesday showed net inflows of U.S. dollars to Brazil totaled $2.06 billion this month through May 15." [Granted this data is now two weeks old, but the trend remains intact].
Naturally, there are analysts (I would call them apologists) who point to positive economic developments and a resurgence in commodities as the underlying cause for the Real's increase. In my opinion, this explanation is patently absurd, given that Brazil's economy is forecast to shrink in 2009, along with every other economy.
The "real" reason for the Real's performance is the country's relatively high interest rates. The Central Bank has cut interest rates by 350 basis points this year, bringing the benchmark selic rate to 10.25%. To put things in perspective, this rate constitutes a record low for Brazil, whereas in most other economies it would be considered unfathomably high. Futures markets indicate that rates will fall further over the course of the year, the extent of which depends on how well the Brazilian economy performs in the second half. [It is forecast to grow by 3-4% in the fourth quarter]. Still, even a cut to 9% would still preserve a lofty differential between Brazil and the rest of the world.
The Bank of Brazil has repeatedly conveyed its dissatisfaction with its rising currency, even though it remains well below 2008 levels. It has purchased Dollars on the spot market every day for the last month, and is reputed to be considering a foreign exchange tax on foreign capital inflows, both to no avail. "We expect this flow of dollars to continue to go to Brazil, we expect the economy to grow. So, the probable scenario in terms of currency is that we are going to see the real gaining," summarizes one analyst.
At this point, it seems the only thing that would dent the implicit optimism of foreign investors is another shock to global financial markets- one of similar magnitude to the Lehman bankruptcy.