May 6th 2009
Australian, New Zealand Currencies Benefit from Risk Aversion
Against each other, the New Zealand Kiwi and Australian Dollar have traded in a pretty tight range for the last year (except for a "blip" in the fall of 2008). This makes sense, as both currencies rise and fall in accordance with exports and interest rates.


Against other currencies, meanwhile, both have torn upwards in the last couple months. Despite steep interest rate cuts, both currencies have maintained their interest rate advantages against other industrialized currencies. This has not gone unnoticed, and the return of the carry trade has been kind. "The current improvement in sentiment is providing an underpinning of support and while that remains the case – and that may be until midyear – the New Zealand dollar is going to remain well-supported," said one economist.
The correlation between the New Zealand Kiwi, specifically, with the US stock market has become remarkably cut-and-dried of late, which you can see from the chart below. For carry traders, therefore, it probably makes more sense to follow stock market commentary than to track New Zealand economic data. The same economist, for example, warned "that the equities rally, which has seen the broad U.S. Standard & Poor's 500 index climb 36% from its March low after rising another 3.4% Monday to its highest since Jan. 8, may be dissipating."


Besides, given the deteriorating economics in both countries, lower interest rates are probably inevitable: "We think this case for further cuts will be made in the second half of this year…we think it will be very difficult, no matter what the global economy is doing, for the RBA to ignore rapidly rising unemployment," offered one analyst who predicted that rates would be cut to a "trough of 2%." In such a scenario, the interest rate spread would still remain healthy, but perhaps not enough to offset the additional risk.


Australian home prices are falling at a rapid clip, the labor market is sagging. In New Zealand, meanwhile, a decline in sentiment and consumer spending has corresponded with a 1% contraction in GDP in the quarter ended March 31. Tourism is down, although net exports are increasing. The current account deficit continues to expand, but this is mostly a product of an investment balance – perhaps related to the carry trade.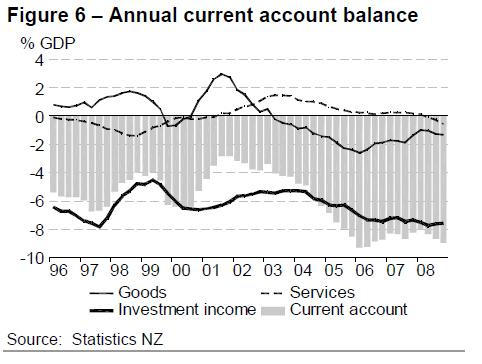 For now, forex traders remain optimistic, albeit slightly less so than before: "The difference in the number of wagers by hedge funds and other large speculators on an advance in the Australian dollar compared with those on a drop — so-called net longs — was 16,692 on April 28, compared with net longs of 17,250 a week earlier."