April 2nd 2009
Yen Falls Below 100 as Risk Aversion Fades
This week marked a couple milestones for the Japanese Yen. First, the Yen fell below 100 JPY/USD for the first time in five months. Second, the Central Bank of Japan "celebrated" five years of not having intervened in forex markets. Of course, the relationship between these two events is not difficult to ascertain; as the Yen retreats from the stratospheric highs of 2008, intervention is becoming progressively less necessary (and hence less likely).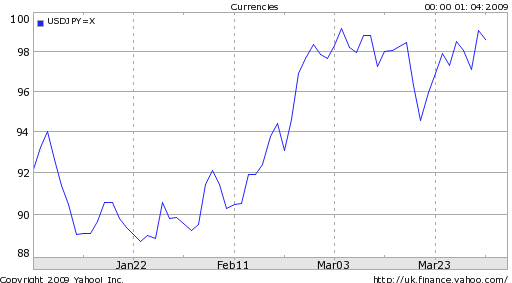 Risk aversion, or in this case a decline thereof, has been identified as the likely cause of Yen weakness, although as I alluded in an earlier post, there is still a question of causation, as opposed to correlation. Is it higher equity and commodity prices that are driving risk tolerance, or the other way around?
Regardless of whether the chicken or the egg comes first, higher asset prices have recently been accompanied by modest declines in so-called "safe haven currencies," namely the Dollar and the Yen. In the case of the Yen, there were previously two different narratives, one that underlies the Yen's performance solely against the Dollar, and another thread seems to govern its fluctuations against virtually all other currencies.
In recent weeks, however, a combination of forces have come together to drive the Yen down against all currencies. First, of course, is the theme of declining risk aversion: " 'The euro was bought for the yen on the back of recent firm stock markets and this supported the dollar relative to the yen,' " summarized one analyst. The $1 Trillion economic stimulus plan unveiled today by the G20 will also have the effect of "sapping demand for Japan's currency as a refuge."
There are also end-of-quarter factors that have played a role in the Yen's decline. " 'The dollar is being buoyed as Japanese investors try to secure currency on the last day of the fiscal year. Investors' demand for the yen stemming from repatriation flows, on the other hand, appears to have peaked,' said a trader at a Japanese bank."
Last but not least, there is the Japanese macroeconomic picture, which shows a country that is headed towards a deep recession. The latest monthly figures show a 49% year-over-year decline in exports, which is contributing to rising pessimism among Japanese businesses. According to a recent survey by the Bank of Japan, "Confidence among Japan's large manufacturers dropped to minus 55 in March from minus 24 in December, [which]…would be the lowest since 1975 and the biggest drop since the bank started the survey." Given that Japanese household spending is also falling, "Japanese companies are caught in a double bind, facing markets at home that are shrinking with the population as well as the global downturn."