March 27th 2009
Pound Moves up Cautiously as Risk Aversion Declines
Since touching a fresh 24-year low in the beginning of March, the British Pound has recovered strongly, rising 5% against the USD in a matter of days. Analysts are at a loss to explain the sudden strength of the Pound, outside the confines of the safe-haven hypothesis: "The risk premium that sterling has taken on works both ways, and you can see sterling outperforming whenever risk appetite picks up."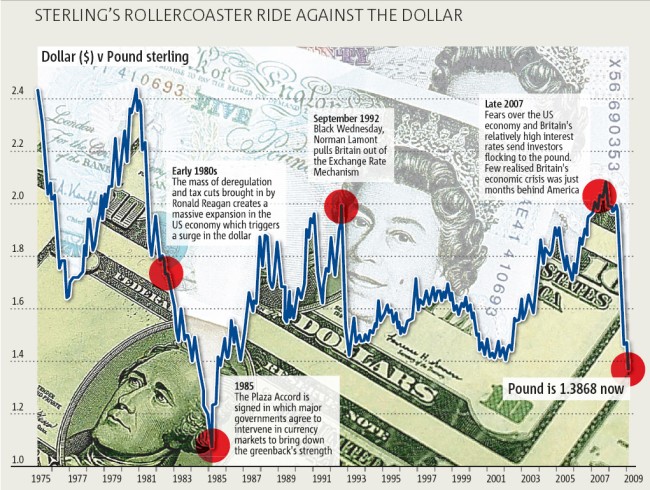 As another analyst points out, however, ascertaining the role of risk aversion in the markets has become somewhat circular: "Observers…draw this assessment purely from price action. Rising equities means the market is less risk averse. And the way we know there is less risk adversity is that the stocks have rallied." Applying this argument to forex, softening risk aversion is contributing to a stronger Pound. At the same time, observers point to the rising Pound as a signal that risk aversion has softened. In short, the safe-haven trade is surely not the most convincing explanation.
In fact, by all accounts, the Pound should be falling. The latest data shows that retail sales plunged by 1.9% on a monthly basis. GDP is projected to fall to such an extent that "in 2009 Britain will slip to 12th place (from 7th in 2007) among the 15 'old' members of the European Union, behind all except Spain, Greece and Portugal." Meanwhile, the Central Bank of the UK has warned that Britain's government finances have become so fragile that the government will have difficulty carrying out new spending plans. Investors have taken note, and demand for the latest auction of UK government bonds is believed to be the "lowest in history."
Given all the bad news, perhaps the Pound's recent rise can be best attributed to technical factors. "The $1.45 level represents so-called resistance on a descending trend line connecting the January high of $1.5373 and the February peak of $1.4986." Given that the Pound has since sunk back below $1.45, it can be reasonably discerned that a cluster of sell orders were executed at this level.
Over the longer-term, the prognoses for the UK economy generally, and the Pound specifically, are not good. Thanks to a low exchange rate, inflation is actually rising. It is perhaps a welcome development, since it indicates that the UK was (temporarily) averted deflation, but it could also be a product of the quantitative easing plan announced earlier this month, whereby the Bank of England will flood the banking system with newly minted money. "Such a tactic can dilute the currency, and the perception that such dilution is about to occur is dragging the Pound down right now."