March 18th 2009
Japanese Yen Hovers around 100 JPY/USD, Intervention Unlikely
In the wake of the Swiss National Bank intervening to hold down the value of the Franc, everyone is wondering whether the Bank of Japan (and perhaps other Central Banks) will follow suit. Asks one market commentator rhetorically: "How long do you think it will be until Japan tries once again to push the yen lower, with its export industries in tatters?" Given that the Japanese economy is forecast to contract for at least the next two quarters, and also that its trade balance recently slipped into deficit, this is an eminently reasonable question.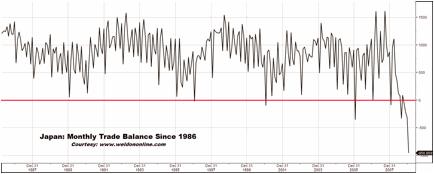 Even prior to the surprise SNB announcement, it was widely speculated that the Bank of Japan would intervene on behalf of the Yen. After all, the BOJ was the most recent Central Bank to have waded into forex markets; it unsuccessfully spent $350 Billion in 2003-2004 to hold down the Yen. Since the inception of the credit crisis, however, it has passed on several golden opportunities. "It declined to intervene in October when the Group of Seven industrial powers issued a rare inter-meeting statement singling out yen volatility, giving Japanese authorities the green light to stem its surge. Even when the yen hit a 13 1/2-year high of 87.10 per dollar in January and exports demand collapsed, the BOJ held back."
Since the beginning of 2009, the Yen has fallen 8% against the Dollar, and has fallen to a 3-month low against the Euro. Now, the "pendulum is swinging the other way" as risk aversion eases up and investors turn their attention to macroeconomic fundamentals. "The yen's safe-haven appeal has, however, lost some of its lustre due to a rapid deterioration in Japan's economy…and political uncertainty with an unpopular government facing an election that must be held by October."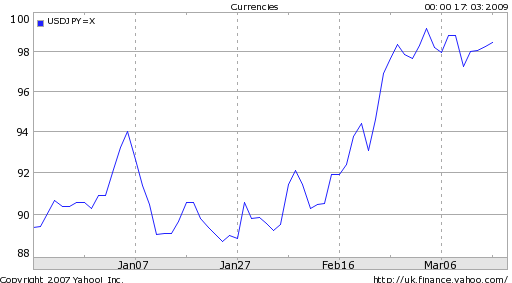 Nonetheless, the Yen has not yet slipped below the psychologically important 100 Yen/Dollar barrier. Analysts speculate that this is due to capital repatriation by Japanese investors, for hedging and accounting purposes. In order to minimize forex conversion losses, Japanese retail investors are taking advantage of the relatively weak Yen by shifting funds into domestic value stocks. Japanese companies, meanwhile, are " 'dressing up' their balance sheets ahead of their fiscal year-end, by liquidating foreign holdings and bringing home the profits from overseas subsidiaries, to raise their bottom lines."
The likelihood of BOJ intervention is paradoxical. If investors fear intervention, they will sell the Yen, and in turn, minimize the need for intervention. On the other hand, if investors remain skeptical of intervention, they may buy the Yen, which could actually impel the BOJ to intervene. But putting game theory aside, most analysts remain convinced that economic and political circumstances point away from intervention as a real possibility.